18-10-2020
158 VI young people receive AQA awards at biggest ever event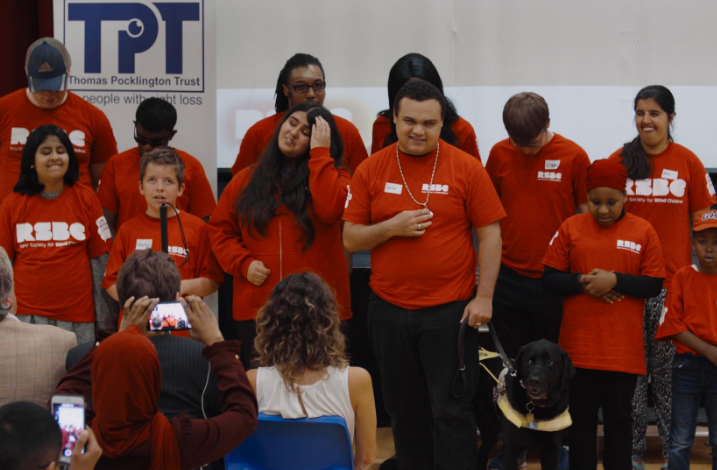 The third annual AQA awards in July, saw 158 children and young people being recognized and celebrated for achievements across a huge mix of subjects and activities. The ceremony has become a much-loved highlight of RSBC's calendar, as it's a celebration of the hard work and new skills demonstrated by VICYP over the course of the year. Accreditations were achieved in subjects including, assistive technology, employment skills, health and wellbeing and performing arts.
The event was also an opportunity for the young people to showcase their talent in the company of their families, friends and RSBC staff and volunteers.  Performances included guitar solos, songs and poems. 
Helping CEO Tom Pey present the awards were long-time Creative group supporter Charles Fairweather of the Royal Philharmonic Orchestra and RSBC ambassador Wayne Sleep (OBE).
The audience of 150 was also moved and entertained by the inspiring words of Souleyman Bah, 20, who shared his own sight loss story with passion and humour. Souleyman, who has lost much of his vision due to Retinitis Pigmentosa, is a paralympic gold medalist and is currently training for a place in the 2020 Tokyo Games.  He wanted to share with other young people in the audience, his empowering words that
Just because you're visually impaired, don't let others impair your vision. 
RSBC member Mercedes, also shared how she and her friendships at RSBC have helped to boost her confidence. She thanked RSBC,  before performing a song she'd written called Speechless all about her refusal to be silenced by other children at her school, who she explains, didn't think she should have a voice sue to her sight loss.
Dr Tom Pey, said of the day
It's so important that we have occasions like this when we recognise the amazing achievements of the young people we have the privilege of working with. It's also a brilliant opportunity for us all to come together and for parents to be a part of their child's success story, which they play a critical role in. AQA are official qualifications and a really important focus for our staff and volunteers helping VICYP towards their individual goals. This year was bigger and better than ever and I'm sure we'll continue to see the event grow each year.  I'd like to thank our sister charity Thomas Pocklington Trust, for generously sponsoring the event as well as Charles Fairweather and Wayne sleep for their support.