Want to run for us in the TCS 2024 London Marathon? We have charity places in the 2024 race! Apply below and we'll be in touch to discuss your place.
Date: Sunday 21st of April 2024
Distance: 26.2 miles
Registration fee: £50
Fundraising pledge: £2,500
Joining Team RSBC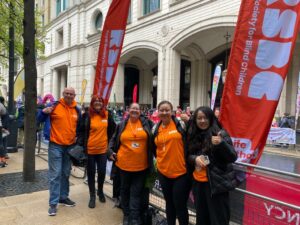 You'll get training and fundraising support from our friendly, enthusiastic team. They're dedicated to helping you meet your target, get across the finish line, and have lots of fun too!
You'll also get:
Ongoing hands-on support for training and fundraising
Your own RSBC running vest
Two noisy cheer points at miles 18 and 23
Photographers on the route and finish line to capture your great day
Connect with other RSBC runners in a secure WhatsApp group
Post Marathon reception at a venue by the finish line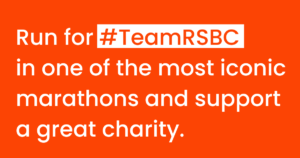 Blind and partially sighted runners
We would be delighted to support blind and partially sighted runners. We'll help to find a sighted guide for you to run with.
Own place runners
If you are one of the lucky ones to get a place in the ballot when it's announced or have a place with your running club, we would love you to be part of Team RSBC. There will be no minimum fundraising pledge and you'll still get all of the benefits of our support.
Want to know more?
Visit our page about the 2023 TCS London Marathon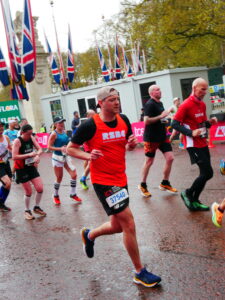 Apply
Apply below or for more information call 020 3198 0225 or email kevin.mcnulty@rsbc.org.uk
We have places in London Marathon 2024 available and shall respond to your enquiry within the next 14 days.