RSBC Life Without Limits Lottery Frequently Asked Questions
How do I play the lottery?
You enter by registering on the website, setting up a recurring payment to pay for your entries and choosing your numbers. You can pick numbers that are special to you, or you can allow the website to generate random numbers for you and select those.
Can someone still play if they are not online?
Yes. Players can call the dedicated One Lottery number – 01865 678679 – to register and set up payments.
When are the draws?
Every Saturday night at 8 pm.
How do I choose my numbers?
Just pick six numbers between 0 and 9, or select 'Choose for me' and the website will automatically generate your numbers. You can use the same number more than once.
How are the winning numbers picked?
We use the Australian National Lottery Super66 numbers and we publish the draw results, along with the abbreviated name of the lucky winner (ie Mrs S) on the RSBC page of the lottery website.
What happens if I win?
You'll receive an email with the good news, and we'll help you arrange to transfer the winnings into your nominated account.
What are the prizes?
There is a jackpot prize of £25,000 for any player who matches 6 numbers in the correct order. There is also a second guaranteed prize which is 24% of the total amount played in the RSBC Life Without Limits Lottery every week. The more players we have, the higher this prize is.
What payment types do you take?
Lottery entries can be made by Direct Debit or recurring debit card payment. Players choosing to pay by debit card can play for one month (£5) or 12 months (£52), but many people prefer the convenience of direct debit.
Why is it £4.34 per month for one entry by direct debit?
That's just a way of accounting for the fact that some months have 4 weeks and some have 5.
How many entries can I buy?
You can buy as many tickets each week as you like, but most people take one or two. We think it's very important that people don't spend more on tickets than they can afford.
Are you concerned about people gambling too much?
We recognise that for some people gambling is an addiction and we want to make sure that we don't add to people's difficulties in this regard. We believe that £1 or £2 per week, which is the amount most people play, is not likely to cause problems.
We have Be Gamble Aware messaging on the website and we have a self-exclusion mechanism so that people who may have a gambling problem can opt out of the game at any time. We also make a note on supporter's records if they tell us that they would prefer not to hear from us about the lottery or raffles.
For most people, the lottery is a fun way to support RSBC and that's the way we'd like it to work.
How much money goes to RSBC from the sale of tickets?
50p from every entry goes to RSBC (that's twice the amount that goes to good causes from the National Lottery). The other 50p goes towards the prize fund (30p for each entry) and administration of the lottery/VAT (20p per entry).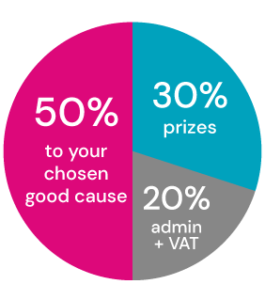 What does RSBC do with the money raised?
Every entry into the lottery helps RSBC to support vision impaired children and young people to achieve their potential. That could be support to make the most of their education, help to get a job, or supporting the emotional wellbeing of the whole family.
Many of our programmes are long-term and having a reliable source of income, just like the Life Without Limits lottery, enables us to make long-term commitments with confidence, knowing that we have the support and backing of our lottery players. We're so grateful to everyone who plays the Life Without Limits lottery.
Contact
Do you have a question that we haven't answered? If so, you can call 01865 678679 or email support@onelottery.co.uk, and we'll be glad to help.