A teacher raised an incredible £1,500 for RSBC by running a marathon in his hometown.
Steven, from Rugby, became aware of RSBC when one of the children in his class started being supported by the charity.
He always had a dream of one day completing a marathon and had recently started a journey to a healthier lifestyle.
And with no marathon events on during lockdown, Steven knew that five-and-a-bit circuits around a local lake would see him complete his own 26.2-mile feat! He picked his date and set a fundraising target of just £50, which has since been blown out of the water.
Super support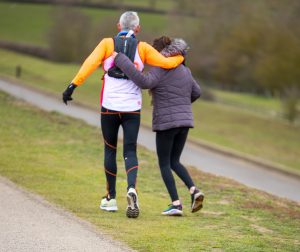 Steven wrote on his Facebook fundraising page: "The support on the day is what got me through, and I'll never forget running the last 100m with some of our class, and being presented with my 1st place medal by my gorgeous daughter."
"A huge thank you to all the parents and children who secretly organised a rota so I had cheers every lap, and to my friends and colleagues walking round and shouting me on."
From everyone at RSBC, a huge thank you to Steven for training so hard, taking on such a challenge, and fundraising with so much dedication.
For anyone who is tempted to take on their own marathon challenge, RSBC has places available in the Virtual London Marathon!
You can be part of the biggest marathon ever but choose your own route and complete it within 24 hours on 3rd October. You can run or walk the distance and you'll receive an official London Marathon medal and New Balance finishers t-shirt.