Summer appeal
Stories and books are one of life's magical pleasures. Yet many blind and partially sighted children are denied the joy of bright, beautiful pictures and imagination-spurring words.
Parents like Clare, mum to little David (pictured), can feel unsure about how to start introducing stories into their children's lives.
No child should be denied a bedtime story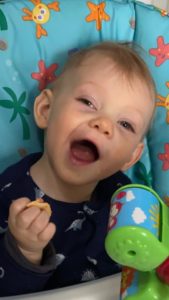 During the pandemic, RSBC has developed sensory story sessions that can take place on a video call, and Clare and David are just one of the families who have already taken part.
In these sessions, one of our Family Practitioners makes every story sensory using props such as crumpled paper, a tray of water and a splodge of playdough. The props create sounds and tactile experiences that fill the gap of not being able to see the pictures. This means blind children like David can understand stories, experience their excitement and get involved, just like sighted children can.
There is a huge demand for these sessions and we'd like to be able to offer them to as many blind children and their families as possible. But we need your support urgently.
Help us give the magic of stories to blind children like David, and provide all our specialist support services, by giving to RSBC monthly.
During a time when it's harder than ever before to raise funds, your monthly donation of £5, £10 or £15 could help us to run more sensory story sessions, showing more and more parents like Clare how they can share a bedtime story with their child every night – a childhood pleasure which no child should have to go without.
And if you'd prefer to make a one-off donation on this occasion, you can do so here.
"David's whole face lights up when it's story time – it's a picture" – Clare