Christmas Appeal
Sharn's Christmas wish is for more families like hers to receive the support they need. Read her story below…
Donate this Christmas
Christmas is a time for wishes, hopes and dreams. For me, as the mum of a two-year-old little girl who can't see, Christmas is no different – I want so many things for my darling Maya every day of the year.
My wishes for Maya? Everything really! I hope she'll believe in herself enough to make her own choices, have a career and maybe one day have a family of her own. I hope she'll show the world just how much you can achieve when you're blind.
The only reason my family and I can face Maya's future with so much hope and optimism is RSBC. If it wasn't for all the support that we've received we might still be in a very deep and dark place.
That's why my Christmas wish this year is that every blind child who needs to be supported by RSBC can be, just like my Maya is.
"Your daughter is blind"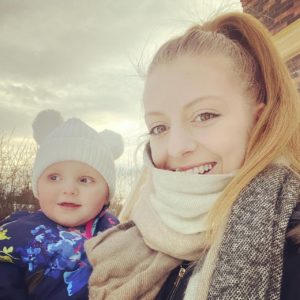 Four words that changed my life forever. I heard them when Maya was just nine weeks old – it felt like someone had crushed me. I woke up as one person and went to bed as another.
I got in touch with an RSBC Family Practitioner some days later. She'd told me that if you ever need somebody to talk to, we're here for you.
Here for me is exactly where she's been ever since! Our Family Practitioner provides a safe space where I can explore my feelings, she suggests play ideas and resources and signposts me to useful services. She's shown me that there are no limits for Maya – just adaptations that can help her to achieve all the usual milestones.
I know that every blind child and their parent deserves someone like her at their side to navigate what can be some really painful and challenging times.
RSBC has provided us with a newfound vision for the future – a realisation that, although there will be hurdles, we can overcome them. Without RSBC, we wouldn't be as stable as a family or looking ahead to a bright and exciting future.
Before I was in a dark place but now I watch Maya every single day in complete and utter wonder. She is incredible and I truly have to pinch myself that she's mine.
Please donate this Christmas so that every blind child can face the future with hope, excitement and expectation.