 Leave a gift in your Will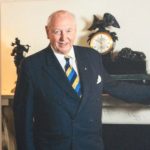 "I see the way blind and partially sighted children live life now with the support of RSBC and I want to help the charity continue to do this for years to come," says RSBC supporter Dr David Wright (pictured)
We hope after you've catered for your loved ones that you might consider leaving even a small share of your estate to blind and partially sighted children and their families through the work of RSBC.
Why leave a gift to RSBC?
A gift in your Will is a wonderful way for you to ensure that the things that have been important to you during your lifetime live on after you have gone.
People have lots of reasons for choosing to help in this way. David remembers growing up with friends of his parents whose sight was damaged during the war and feeling how important it was to help people to lead full lives within their communities.
How to give in your Will
If you believe in helping blind and partially sighted children achieve their potential, a gift in your Will is a wonderful way of advancing this cause.
You can start writing your Will free of charge with our trusted partner Farewill whenever you are ready. Farewill is the largest Will writer in the UK and their specialist team are available to help you over the phone or live chat seven days a week (9 am – 7 pm).
If you would like more detailed information on making your Will you may find our gifts in Wills useful.
Contact us
If you would like us to give you a call to discuss any aspect of helping us in this way please leave your details and a member of our team will call you back within three working days.
Or, if you would rather write your free Will over the telephone you can request a callback.
Finally, if you do decide to go ahead and include us in your Will and, like David, you are happy for us to know about it, please do contact us on 020 3198 0225 or drop us a line at supporter.care@rsbc.org.uk. We would love to be able to say thank you!