03-11-2020
Blind and Partially Sighted Sports and Exercise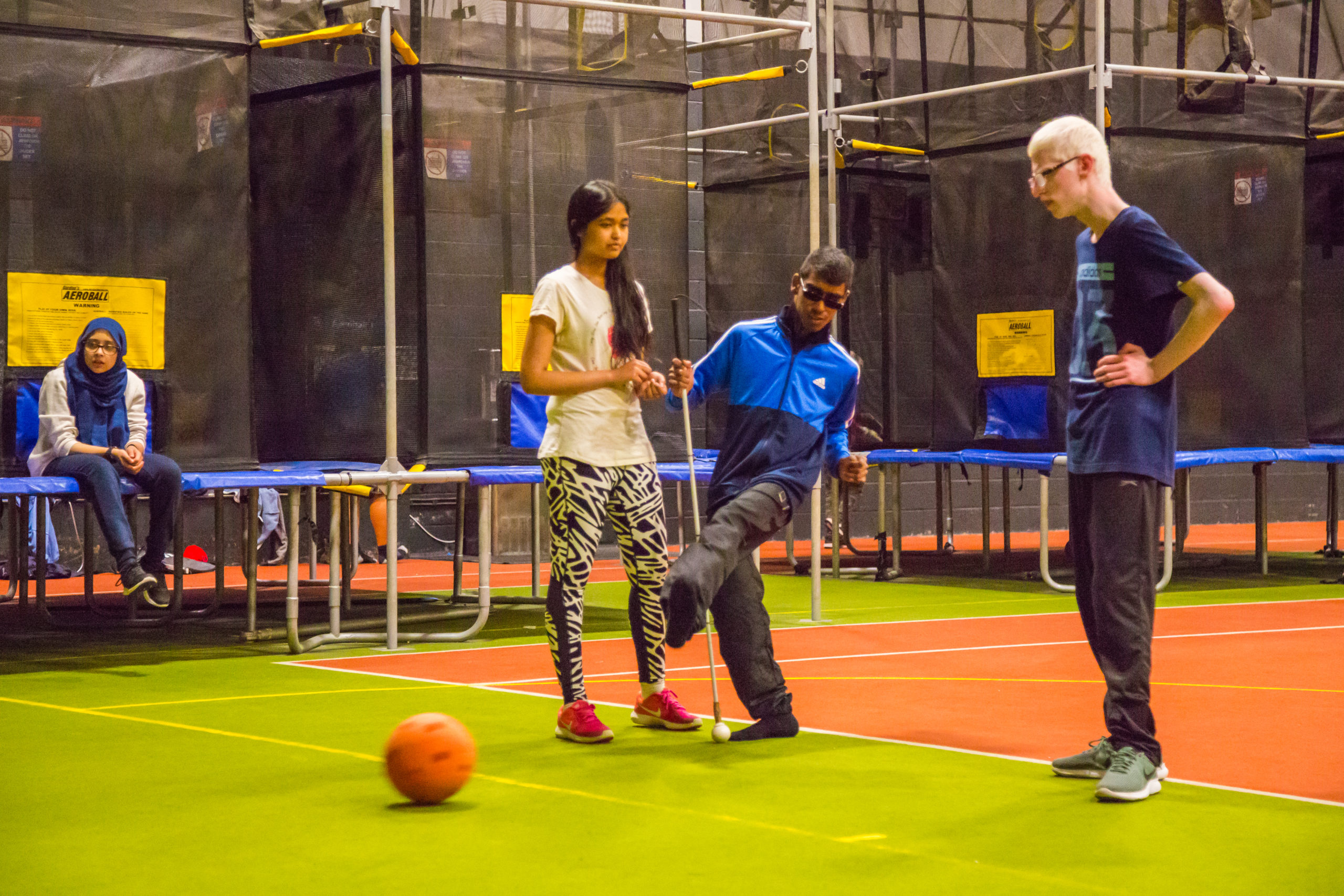 Sports and Exercise for blind and partially sighted people
It is common knowledge that we all should take part in sport or physical activity regularly. For example, the NHS notes there is 'strong scientific evidence' that being physically active is likely to help you lead a healthier and happier life. Nowadays there are loads of different opportunities available for blind and partially sighted young people to take part in sport and exercise, but they can be a little hard to find. Because of this, we've created a list of activities you may want to try and added some useful links for you to explore!
*Top Tip*– British Blind Sport have all sorts of information available online on loads of inclusive sports. If you cannot find what you're looking for here, going to their website and having an explore might be a good bet. The easiest way of doing this is by using their 'Activity Finder'  – a database where you can search for activities in your local area.  
Metro Blind Sport are also offering Audio Exercise Programs to work out online if you are not leaving your house for any reason.
Have we missed anything you were looking for? Let us know! Email us at connections@rsbc.org.uk.
RSBC
RSBC and partners run a wide range of different sports sessions over the course of a year. This includes health and well-being groups, as well as lots of inclusive activities organised by our partners. Find out what is on offer by going to our calendar of activities. 
Archery
Archery is a great sport for blind and partially sighted young people to get involved in, as it can easily be altered to for sight impaired people to play. There are loads of archery clubs around the country that support accessible archery that welcome players of any standard. 
To find out more, either visit British Blind Sport's Archery Section on their website or email Carol Davies (British Blind Sport's archery secretary) on secretary@bbsarchery.org.uk. 
Boccia
Boccia is a totally inclusive sport to be played by people a wide range of impairments, including those with complex disabilities. 
Boccia England provides a good introductory explanation to the sport here, and also have a useful tool for finding local clubs across the country – there are over 60 in the country hopefully one near to you! 
Canoeing
Canoeing or kayaking are great sports to get involved with if you are blind or partially sighted, as only small changes need to be made to the sport (e.g. providing a sighted guide). Our young people have always enjoyed this sport – show in this linked photo from our history page. 
Cricket
One sport that we often play at our health and well-being clubs is cricket for blind and partially sighted people, also known as Blind Cricket. Blind Cricket England & Wales (BCEW) are the main national, international, and regional organisers.
---
[1]'Benefits of Exercise'. NHS. Accessed October 12, 2020.
BCEW provide a list of all clubs in the country. Most clubs allow players from a wide age range, and some, such as the Warwickshire Bears vision impaired Cricket team specifically have teams that include children and young people. Get in contact with your local team to find out more! 
Football
The FA also organises blind football – a 5-a-side version of the sighted game where all players wear blackout glasses, and the ball has bells within it so that blind and partially sighted individuals can play at similar levels to one another. 
Go on the FA website here to look into getting involved in Blind Football. 
Goalball
Goalball is a sport that invented especially with blind and partially sighted people in mind – making it perfect for many people with a sight impairment! All players must be blindfolded, so that every player is on the same level of vision. Two teams of three players (of any gender) play against each other, with the aim of the game being to score a goal by bowling the ball across the goal line of the other team. 
Goalball UK is the home of goalball in England and Wales, and if you're interested in finding a club local to you (there are over 20 in the country), follow this link here. 
Also, if you're interested in bringing the sport to your school or college, Goalball UK can help. More information on their National Schools Programme here.  
Going to the Gym:
Amar Latif, a blind/partially sighted television presenter and entrepreneur, once wrote an article about how inaccessible gyms are for blind and partially sighted people. Many gyms do not have inclusive fitness equipment and are often hard for people with sight difficulties to use, a study completed by The Thomas Pocklington Trust and RiDC (Research Institute for Disabled Consumers) found. 
Because of this, sometimes blind and partially sighted people need to use inclusive gyms. Activity Alliance provides a list of 85 'inclusive gyms' across the country. If there is not an inclusive gym in your area, try getting in contact with a local gym to see what arrangements you can have made. An example of this can be seen in this Metro article about a partially sighted man and his guide dog thriving in their local gym! Getting in contact with RNIB's campaigns team (calling 0303 123 9999 or emailing campaigns@rnib.org.uk) can also be a good step in making arrangements for your area to get more accessible, if you want some support in the process! 
Running and other Athletics
Running in public is can be a little tricky for blind and partially sighted people. To make it easier, there is an online tool available called 'Find a Guide' which matches you up with trained guide runners to help a blind or partially sighted person run in public. Runners of all abilities are welcome to sign up for a volunteer guide at no cost (a lot of guides will travel reasonable distances!)
---
[1]'Why do gyms make things so difficult for blind people?' The Guardian. AccessedOctober 12, 2020
[1]'Inclusive fitness equipment for people with a visual impairment.' TPT and RICA, January 2018. Accessed October 12,2020.
NB – This service is only for people 18 and over. For under 18s who are interested in running, email the National Disability Manager for England Athletics, Liz Purbrick, on lpurbrick@englandathletics.org who will be able to tell you more about different athletics for blind and partially sighted people (including running) opportunities around the country for young people. 
With the (now delayed) Paralympics coming up, if you want to find out more about blind and partially sighted  Paralympians who have worked with RSBC in the past, you can in our history archives! 
Snowsports
In a country with next to no snow, you may think that snow sports are out of the question for blind and partially sighted people to take part in. You could not be more wrong! All over the country all kinds of snow sports are on offer for people, and they are becoming more inclusive than ever. 
Most ski slopes around the country offer disability assistance of some kind.
For example, Disability Snowsport UK offer lessons, for a fee, to blind and partially sighted people who would like to try adapted types of skiing. This includes at the following artificial snow slopes:
Chill Factore, Manchester,

Sandown Sports, Surrey,

Snow Centre, Hemel Hempstead,

Snowdome, Tamworth. 
More information on this can be found on their website. 
Snozones in Milton Keynes and Castleford offer similar lessons designed for people with disabilities. 
Swimming
All local pools should be able to make adequate adaptions to blind and partially sighted swimmers, under the Equality Act 2010. British Blind Sport also have some good tips for swimming when blind/partially sighted.  
Tenpin Bowling
One difficult thing about playing sports against other blind or partially sighted teams is that often the other teams take a long time to travel to as they are so spread out.  With tenpin bowling, both teams can play at the same time, print off their scorecards at the end, and compare results across the country! More information can be found on the British Blind Sport tenpin bowling page. RSBC offer health and wellbeing sessions for blind and partially sighted young people, which sometimes include bowling days!
Trampolining
Many trampoline parks around the country offer a select time each week for disability jumping, where sessions are often edited for disabled jumpers. This sometimes means reduced prices or less people in the park. 
For example, Jump Rush in Morcambe offer these sessions every Thursday between 4pm-5pm.
Similarly, Better Extreme offer accessible trampolining sessions for disabled jumpers in Barking and Islington with other parks likely being open to inclusivity if you get in contact (such as in Bath and Newcastle). RSBC has taken groups trampolining in some of these locations and can confirm it is a LOT of fun. 
Tennis
The Tennis Foundation says that tennis for blind and partially sighted people is a fast-growing sport, where you play with a ball that makes noise on a smaller court than standard tennis. Find local sessions using their interactive map to get involved!