Activities for blind and partially sighted children, young people and their families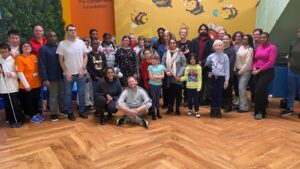 Every month we offer a wide range of activities for blind and partially sighted children,  young people and their families. We also run special celebratory events like our annual AQA Award ceremony, special occasions and festivals and much more! Sign up for RSBC events and activities by filling in the online booking form on the event page.
What's on offer?
You can join a range of different activities and there are even some your whole families can get involved in too! Are you a budding chef, or do you want to shine bright like the star you are? Do you enjoy working up a sweat or sitting back and chilling out with your friends!? We have something for everyone to get involved in!



Who can join?
Anyone can join in. You'll see from our calendar what's right for your age group and interests. All our activities are fun, interactive, and enjoyable. You get to learn new skills, make new friends, either from our Life Without Limits Centre, out in your communities or online from the comfort of your own home!
When are activities?
To find out what's happening this month, check the events page to get yourself and your family booked on to your next activity with us! 
How do I sign up?
Check our coming events below or go directly to our calendar of activities .  Simply click on one of  the events and book directly by filling in the online form.