Trusts and foundations
Charitable trusts and foundations enable us to continue delivering our services across England and Wales.
They play a vital role by partnering with us to ensure blind children and young people thrive and live a life without limits.
How you could support us
There are several ways charitable trusts and foundations can support us:
Give a one-off or annual gift. This allows us to use the funding on our services to support blind and partially sighted children and young people where it is needed the most at the time. No matter the size of your organisation or your gift each contribution is extremely valuable to us.
Give a gift to support a specific project. This means you can support a specific area of our work or a major project over several years. Find out more about our services and the impact they have.
Give a gift to support a specific geographical area. This gives you the chance to support blind children and their families in your local area.
Ways to give a gift
Postal cheque. Should you wish to send us a gift via post then please send it to our registered office at:  RSBC, Life Without Limits Centre, 10 Lower Thames Street, London, EC3R 6EN.
Bank Transfer. Sending a gift via a bank transfer is the easiest and quickest way to support us. Should you wish to do this then please get in touch for further details.
Contact Us
We would be delighted to answer any questions you might have about our work or our charity.
Email enquiries@rsbc.org.uk or call us on 020 3198 0225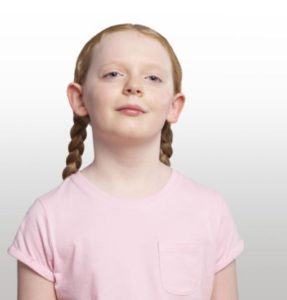 Sasha was born with several sight conditions and has always had to accept that life is just not as easy for her as it is for her friends.
But Sasha refuses to let her vision impairment limit her ambition. As the daughter of a former fashion industry professional, she is determined to follow in her mum's footsteps and have a career in fashion!
"I'm going to be a dress designer when I grow up. I'm already going to a sewing class every week so I can learn new things and practise my sewing skills."
Sasha's mum contacted RSBC to get help understanding the education and care plan that their local council had given her. She says that having the right information and advice available at every step of Sasha's sight loss journey has been crucial.
Sign up to our newsletter
Enter your email address to receive updates about our work, upcoming events, fundraising and much more.