Connecting Families Online Group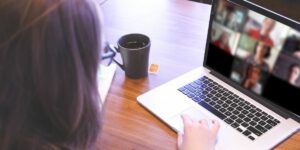 Monthly evening group session for parents and carers of vision impaired children and young people (0-25 years)
Join us for our online sessions facilitated by our team of RSBC Family Practitioners.
Who is this group for?
This is an online, monthly group for all parents and carers of children and young people with a sight loss condition.
What does this group do?
This is a group hosted by our Family Practitioners from the Families First Team. It's a supportive group where you will learn from the experiences of other parents and carers and in turn be able to support others with your own experiences and stories. Each month there will be a new topic covering many of the milestones and issues which parents and carers might face. It' s a safe place to share your feelings knowing others will support you.
What to Expect
• Peer support
• Empowering each other
• Learning about and understanfing mental health and well-being
• Sharing knowledge and experience
• Discussing the challenges of raising a child with a vision impairment
• Open advice forum – no question is too big or too small
How do I join in?
If you are interested in taking part in the Connecting Families Online Group or you have questions, please contact us at familiesfirst@rsbc.org.uk .
You can also check the upcoming dates on our activities calendar.
We look forward to welcoming you.
You may also be interested in…