Moving on to secondary school (Moving On Up)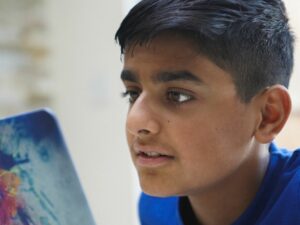 What is it about?
If you're in Year 6 and you want to share your thoughts and chat to others who, like you, will be  moving to Year 7 in September, then why not join our Moving On Up Group! As well as the other young people,  one of our Family Practitioners will be on hand to  answer your questions and help you work through the move.
Download the Moving On Up flyer with the upcoming dates.
How will it help me and my family?
In making the move from Year 6 to Year 7 you may have  many questions and feelings. This Group will give you the chance to talk about your thoughts and feelings, help you work through them and help boost your confidence  before September! The sessions will be fun, and enjoyable but they will also offer you a safe space to talk to others and to the RSBC's Family Practitioner.
How do I join?
If you are interested in joining the Moving On Up sessions or you have questions, please fill the form below.
You can also check the upcoming dates on our activity calendar.