Organise your own fundraising event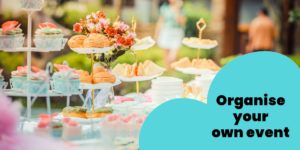 Got an idea for an amazing fundraising event?
Please consider holding the event in aid of RSBC and support blind and partially sighted children and young people.
Supporters of RSBC have held so many great events in the past from bake sales to choir performances. We would love to hear about yours and help make it a success.
Other ways to support RSBC
Contact us
Whatever you are planning please let us know by contacting us on 020 3198 0225 or connections@rsbc.org.uk.