The Life Without Limits Centre (LWLC)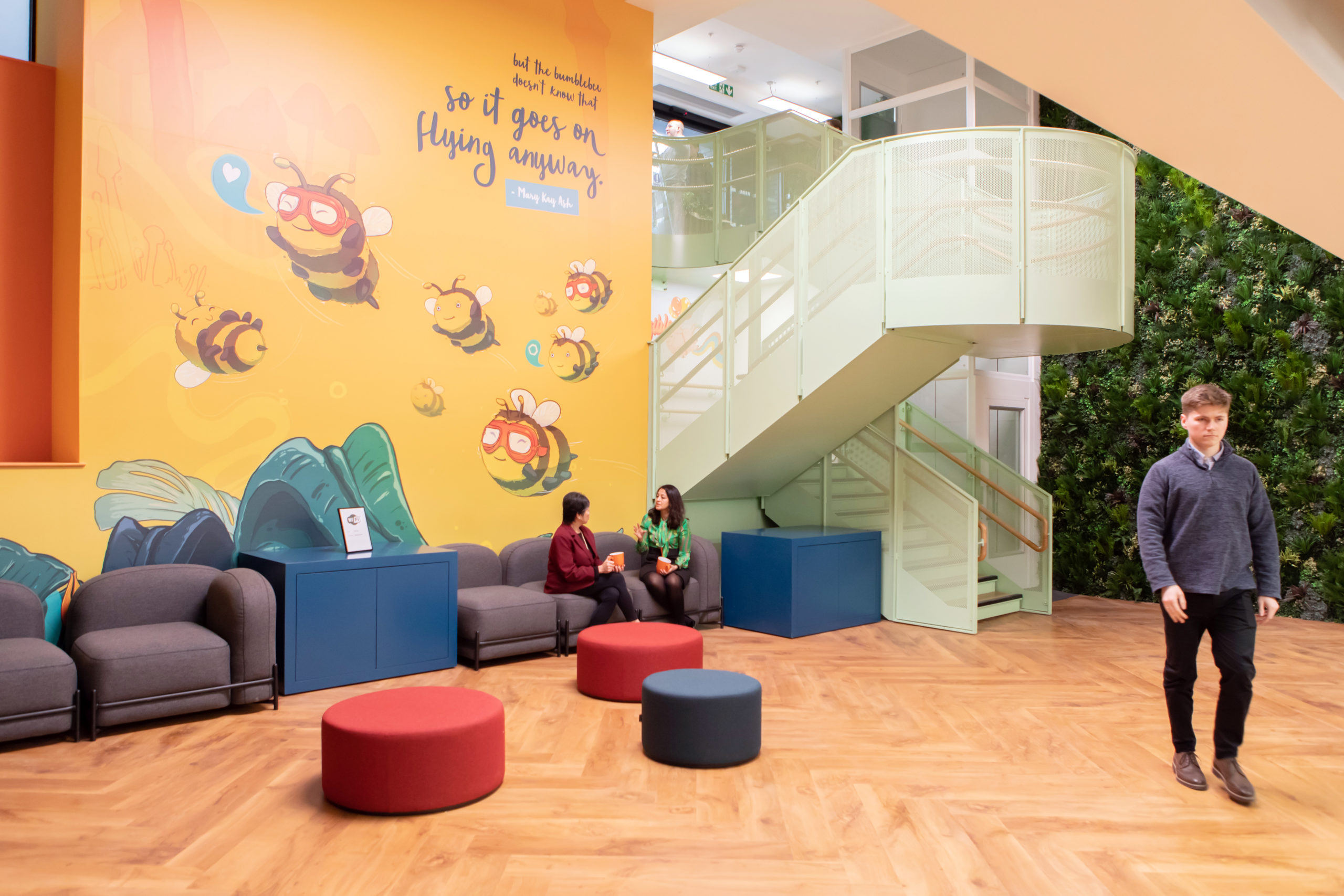 In 2022 RSBC moved its new Life Without Limits Centre (LWLC) near London Bridge.
The innovative and unique new Centre realises a dream to deliver a space dedicated to supporting blind and partially sighted children and their families.
It was designed by world-leading architects EPR Architects, who have transformed a previously unused lower ground floor into an inclusive, vibrant and engaging space, which includes a media suite, an accessible kitchen, small meeting spaces for one-to-one support, and a large flexible space for group activities.
Media suite
The suite has state of the art technology, enabling young people to record podcasts and create other digital content.
Creative suite
Our Creative Suite is a space designed for vision impaired children and young people to sing and dance, get crafty, learn new instruments, and showcase their talents.
Learning hub
RSBC's Learning Hub has the latest technology to enable young people to engage in workshops, study, learn and take part in our Assistive Technology sessions.
Kitchen
Our fully accessible kitchen has been designed for vision impaired people to navigate easily and use kitchen equipment safely. We hold cooking sessions here which are also live-streamed using the Centre's technology, meaning young people can 'Cook-Along' from home too.
The Centre also has a dedicated modern office space for RSBC's staff.
Sue Sharp, our CEO, says: "We're excited to welcome the children, young people and families to the Life Without Limits Centre and introduce them to its incredible new facilities. It was always our ambition to create a space that was designed especially for blind and partially sighted children and young people – a space where they can come together to share their hopes and experiences, and where we can support them to develop their skills and confidence to pursue their dreams and ambitions."
"All of us at RSBC have seen how the lives of blind and partially sighted children and young people can be transformed with the right support. We believe that the Life Without Limits Centre delivers on that ambition and provides the infrastructure to enable us to support many more to achieve their dreams."
"We're immensely grateful to our donors and the professionals who have generously given their money, time and expertise to create this truly remarkable space."