Online Sensory Stories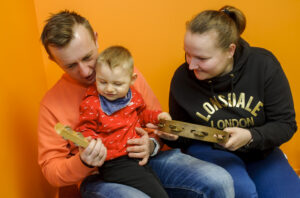 Sensory fun without leaving the comfort of your home.
What does this group do?
Sensory Stories is a friendly group, hosted by a member of the Families First team. You will be shown how to make simple stories, songs and activities come to life by using objects from your kitchen cupboard, bathroom cabinet and sometimes your freezer and how these fun sensory activities can help your child's language development, their exploration skills, their concentration and their knowledge of the World around them.
Who is this group for?
This group is for babies and pre-school children with an adult who is happy to sometimes get a bit messy.
How do I join?
Check our coming Online Sensory Stories sessions below or go directly to our calendar of activities.  Simply click on one of  the events and book directly by filling in the online form.