Corporate relationships
RSBC welcomes corporate charity partnerships with local, national and international companies.
Whatever the size of your company, we want to understand your business, staff and customers so we can build a relationship tailored to you that delivers above expectations.
Work with us to help blind and partially sighted children and young people live their lives without limits.
Why partner with RSBC?
Supporting us will help raise the profile of your business and build its reputation as a socially responsible enterprise.
We also have lots of ways we can work together – ranging from volunteering opportunities for your staff, skill-sharing, gifts in kind, event sponsorship, as well as charity of the year and strategic partnerships.
When you partner with RSBC, you will receive a bespoke package, including:
A dedicated account manager who will work closely with your team to identify plans that work for both of us
A marketing strategy designed to maximise publicity about our partnership
Opportunities to hear from a variety of inspirational speakers, including RSBC staff, blind young people and their parents, to bring our work to life for your team
Regular updates on the impact your organisation is having on the lives of the blind children and young people we work with
Scope Eye Care
We teamed up with Scope Eye Care last year to form a strategic partnership, leading to some amazing activities over the course of lockdown and the pandemic. Supported by their own RSBC account manager, Scope Eye Care:
Sponsored RSBC's first online quiz
Designed their own fundraising event – the #6minutelockdown – to raise money for RSBC
Backed two members of their staff to trek to K2 Base Camp
Formed a team to run for RSBC in the 2021London Marathon
Offered pro bono support to RSBC
Worked with RSBC to identify volunteering opportunities for their staff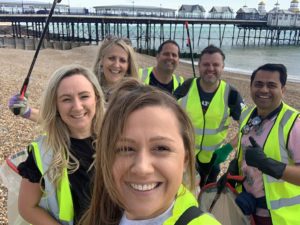 "We are incredibly passionate about RSBC's work and the difference they make in so many blind young people's lives," says Amie Hynes Fitzpatrick, Corporate Social Responsibility Lead at Scope Eyecare.
"Our people love working with RSBC, they're great craic, really creative and always on hand to troubleshoot fundraisers, facilitate volunteering and educate us on how we can make a difference in the quality of life of the young people they support."
Get in touch for more information
Email fundraising@rsbc.org.uk or call 020 3198 0225 to discuss how we can work with your company.
You can read some of our amazing stories below.
Meet our young people
Ellis the developer!
Meet our young people
Monsurat lands her dream job
Meet our young people
"Now we can enjoy Anna's childhood"