Bright Beginnings- early years group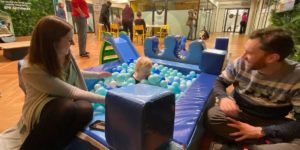 Come and join our exciting quarterly early years drop in group "Bright Beginnings" in London.
Everyone is welcome at our friendly, welcoming Life Without Limits Centre on London's North Bank, near London Bridge.
Who is this for?
Every quarter we'll have a drop in for parents, carers and family members who have a blind or partially sighted baby or child between 0 – 4 years.
What will we do?
The sessions start at 11am and finish at 12:30pm just in time for nap time or other activities you may have planned for the day.
There will plenty for your baby or child to play with through, to meet other's their age and to do some fun activities together with RSBC's team and our partners. Siblings are welcome to join in.
Sensory play, stories, songs, music, toys, and a light lunch together will be the order of play! We promise a cuppa for you when you arrive and there will be plenty of time to chat to other parents and carers too!
How do I join in?
If you are interested in coming along to the the Bright Beginnings early years group or you have questions, please fill the form below.
You can also check the upcoming dates on our activities calendar.
We look forward to welcoming you and your little learner soon.
You may also be interested in…