Meet Frankie, a vibrant and tenacious student at RSBC Dorton College. He is in his third year as a student at RSBC Dorton College. He embarked on a remarkable journey, developing his self-confidence and independence; and embracing his unique abilities. He joined us after he left school and has been studying with Dorton College ever since. Frankie is studying a main course called PPP – Personal Progression Pathways, which is a 'skills for independence' curriculum and one of our partnership colleges.
For four days a week, Frankie attends the SEN (Special Educational Needs) area of a partnership college. He always has a one-to-one Dorton College Learning Support Assistant (LSA) with him helping him focus on his objectives and providing tailored support. On the remaining day, Frankie comes to the Dorton College Hub, where he learns a wide range of VI specific skills, such as cooking, travel training, reading and maths, along with studying for accreditations, such as AQA qualifications.



Frankie received 'Just Enough Support', an approach that is used to make sure the student is gaining as much independence as possible, so the LSA does not over support or under support, but at just the right level to ensure development of independence skills.
At RSBC Dorton College, we believe in empowering every student, regardless of their learning challenges, to unlock their true potential and live a life without limits.
Frankie says:
"People are very caring. I enjoy my time in the partnership College and Dorton College hub"

"I really enjoy swimming. And my best achievement is typing my name and surname on the keyboard".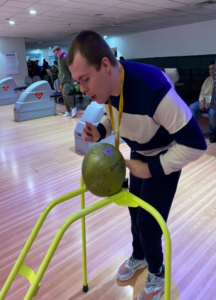 You may also be interested in…