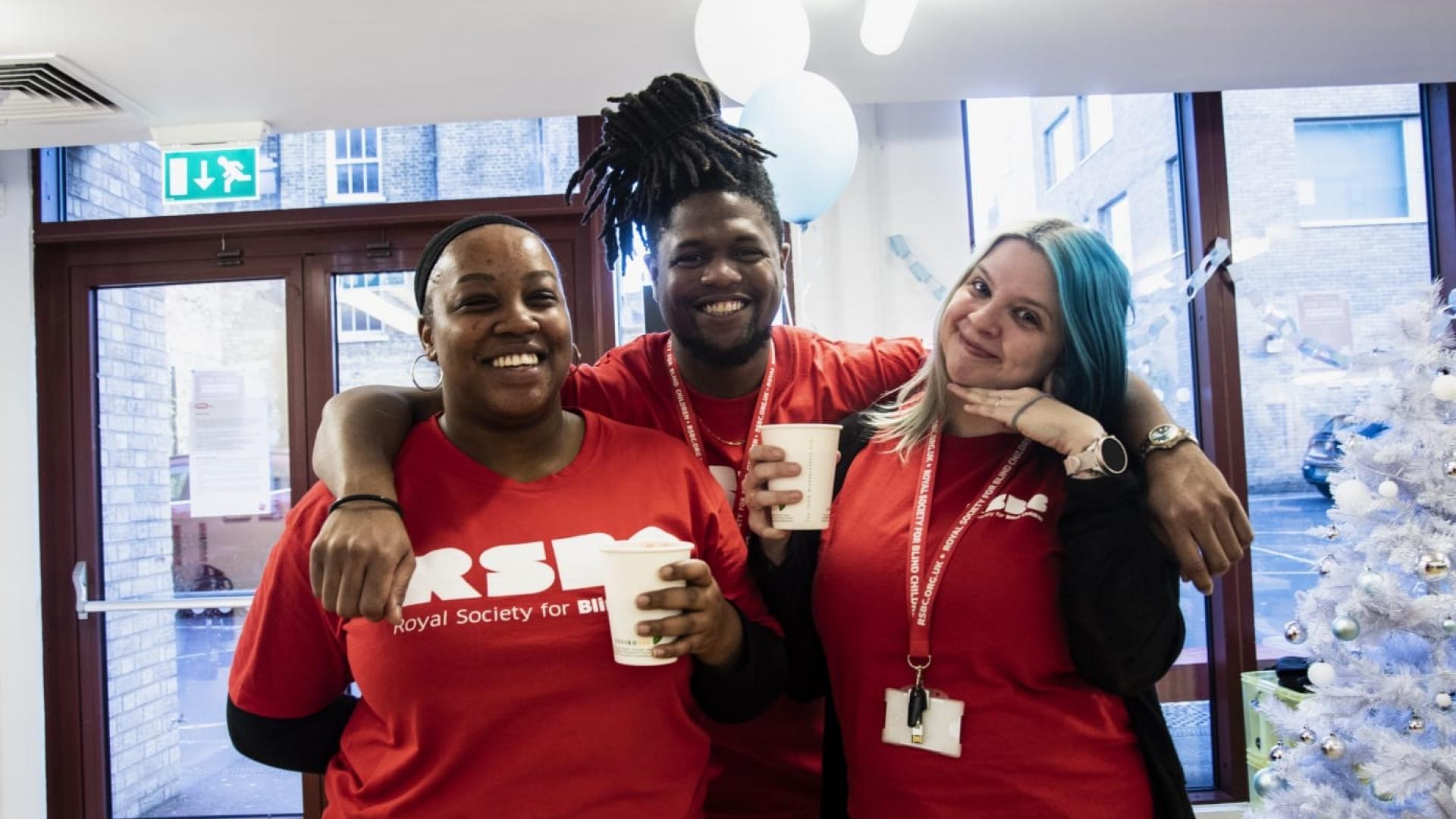 Live Life Go Further
The Live Life Go Further programme includes a wide range of different activities that are delivered across England and Wales, all of which contribute to reducing isolation, building friendship groups, learning new skills whilst having fun. We work in partnership with local organisations so that you can find something that interests you in your area.
You can find the monthly activities in the 'For Young People' section of the website, under 'Calendar of Activities'.
To find out what is happening in your area visit 'Find our services'
The Live Life, Go Further activities break down into six categories
RSBC Advice Service
Health and Well-being Clubs
Employability
Assistive Technology
Creative
Social and Independence
RSBC Advice Service
Advice Line: 020 3198 0225
Email: connections@rsbc.org.uk
Is your family affected by childhood sight loss?
Are you claiming all the benefits you may be entitled to?
Not sure about your rights as a vision impaired young person?
RSBC Advice Service is here for you.
We understand that it's not always easy to access the extra help that is available to you or your vision impaired child.
RSBC Advice Service is entirely free and is designed to provide parents of vision impaired children or vision impaired young adults over 16 with clear information and advice in areas such as:
Welfare Benefits,
Disability Rights,
Visual Impairment,
Heath & Social Care,
Transport & Travel including Freedom Pass, Blue Badge and Motability applications,
Grants,
Accessing other RSBC services.
We can also offer confidential, practical support for:
Form filling,
Written and online applications,
Mandatory reconsideration and appeals.
If you are struggling to understand your rights or access the benefits and grants to which you may be entitled, RSBC Advice Service is on hand to help.
Call today on 020 3198 0225 or email connections@rsbc.org.uk or register your details below.
All initial assessments are done by telephone appointment only.
Please note RSBC Advice Service does not provide housing advice. If you need housing advice, please contact the housing charity Shelter.
We also have an online advice section with further information on financial support and adaptions at the bottom of  Get Our Help .
Health and Well-being Clubs
Want to get active but not sure where to start?
Come along to our action-packed Health and Well-being clubs, designed especially for blind and partially sighted children and young adults. 
What are they?
Our face to face and virtual sessions concentrate on three fundamentals of movement – Agility, Balance and Co-ordination. By developing these skills, it will help you to take part in sports such as football, cricket, basketball, netball, tennis, goalball, and others.
Where possible outside of term time we run external trips – in the past for example our groups have been swimming, had classes in archery and kickboxing, participated in ice skating, wall climbing, circuit driving in real cars and much more!
We offer both virtual and in person activities – come and see what we can offer you.
"The sessions are so fun and challenging at the same time! I always look forward to joining them" 
Employability
Every young person has a future, and employment is an important part of it. Our Employment service provides tailored 1:1 support to make sure that, wherever you are on your employment journey, you know where you are going. We also have some useful tips and info if our Your Futures section of the Information Hub.
Getting started
Not everyone knows what they want to do, or what they can do. We are here to help you explore and decide which kinds of work best suit your skills, interests, and ambitions. Employment is not just a nine to five in an office. If you have ever wondered what it would be like to be self-employed or start your own business, we can advise and support you too. It may be that you are not ready to step into paid work just yet – that's OK. We can also help you find training that will give you the skills and confidence you need to take the next step.
Steps to success
Getting a job can be a job in itself – so many steps you have to take, so many forms to fill in, questions to answer. We will help you build the confidence to handle it all, from writing a CV that stands out to dealing with the pressure of interviews, we focus on the things you need to get the best result. Through our contacts we have access to job vacancies that are not always easy to find elsewhere, and we can arrange experience for you that will give a taste of what it's like to be in the workplace.
In the workplace
Starting a new job can be a challenge. Our support does not end once you find work. We want to make sure that your transition into work is as smooth as possible, and we are on hand to talk to and support you right up to the point where you can say: "it's all good. I don't need you anymore." We can help you with your Access to Work claim, to make sure you get the adaptations to the workplace that you need, and we can offer information to your employer on how to support you as a team member. 
To find out more, please email at connections@rsbc.org.uk 
Assistive Technology
For over five years, we have been empowering independence in young people and children using assistive technology. This includes:
One to One Assistive Technology Sessions
Just like no one eye condition is the same, our one to one session is specialised to your individual visual needs, so you will always be learning up to date and relevant tech skills depending on your level of vision. These sessions normally last from one to one and a half hours.
Group Sessions
At times, there might be a popular topic that a lot of our young people will be interested in, so we have created group sessions where everyone can learn together, and more importantly share ideas of current tech they are using with the group.
Parents' Sessions
Your child might be too young to join our one to one or group sessions, but you may still want to get involved. Our parents' sessions, held in groups or one to one, are full of useful resources on tech for early life learning. 
What Assistive Technology support do we offer?
Our Assistive Technology Officer can provide support with using a huge range of devices including smart phones, computers, braille readers and more. They can also offer support in how everyday devices can be used to support blind and partially sighted people in areas including travel, finances, wellbeing and fitness, independent living, school – the list goes on! We also have an Assistive Tech podcast and area of our Information Hub. 
To find out more, please email at connections@rsbc.org.uk
Creative
Our Creative activities aim to include as many VI young people as possible to come together and collaborate on a variety of different artistic and creative projects. From poetry writing to music discussion, singing, and performing, we encourage everyone to get in touch with their musical and literary skills, and artistically express themselves performing at our Open Mic clubs and seasonal concerts.
This activity is perfect space for all young people that are looking for an opportunity to express themselves creatively with other like-minded people and is guaranteed to get your artistic side shining through!
To find out more, please email at connections@rsbc.org.uk
Social and Independence
Our Social and Independence Groups are a great way for you to expand your social circle, build new friendships, and learn new skills.  These sessions can run virtually or in person across the country, with different groups in various areas.
Examples include:
Supper Club
The Supper Club is one of the most popular and rewarding activities on our roster. Held on Thursdays, it an opportunity for VI young people aged 16-25 to meet and discuss any topic under the sun.
The Supper Club is a great place to become informed about issues of special interest and those that affect your community. Sometimes we have expert speakers on topics selected by participants. The Supper Club is free – come along and have some fun – if a virtual meeting bring your own supper if face 2 face we will meet in a venue that provides our supper.
The Supper Club is supported by the Co-Op Foundation.
Audiobook Club
Audiobook Club is one of the fastest growing and engaging activities. It launched virtually in May 2020 and has become an opportunity for VI young people ages 8-25 to experience the joys and benefits of audiobooks. The group is perfect for anyone who enjoys reading or discussing novels and offers opportunities to explore rich themes and motifs with other motivated and insightful young people.
The Audiobook Club offers the opportunity to familiarise yourself with new titles and to share your favourites with a willing audience.  Meeting on Mondays and Wednesdays, the group is free to all and brings wonder back to reading!
Sisterhood
Sisterhood is a virtual activity specifically for blind and partially sighted young women and girls aged 11 – 25.  It is a safe group where you can get support and guidance the group share their experiences and empower each other with their individual 'lived' knowledge.
All of the topics discussed by the group are chosen by the participants. To date, discussions topics have included make-up and hair styling, time management, personal care and self-care, independence, poetry, having difficult conversations and more!
To find out more, please email at connections@rsbc.org.uk
Our Youth Forum is made up of those young people that participate in our activities and want to do more. The Forum represents the 0-25-year olds we work with their views and opinions, they highlight issues that are important to them, and bring about improvements in what we do to ensure that all of our services are truly reflective of the people using them and that they are of the highest quality.
The Forum is facilitated by staff but directed by forum members, agendas are set by members, planning and ideas are generated by them to evaluate the provision, make recommendations and feed back to the organisation.
The Youth Forum meet every 4 weeks and if you are interested in joining them, please email at connections@rsbc.org.uk.
Sign up with RSBC
If you're interested in attending any of these sessions for the first time, please fill in the form below.