Dorton College – Who we are
RSBC Dorton College is an independent specialist college in the London Borough of Bromley. We offer a day provision for vision impaired 16-25-year-olds and many of our students have additional needs.
Our students come from across London and the southeast region, and we are the only independent specialist further education provider for vision impaired young people in this area.
Info about the college & history
RSBC has been around since 1838 when it was known as The Royal London Society for Blind People (RLSB), over the centuries it has evolved greatly and merged with the Royal Blind Society which was established in 1884 to with both charities going through various identity changes to eventually become The Royal Society for Blind Children in 2015. Visit the RSBC History page to learn more about the history of the development of RSBC.
Dorton College has been based in Bromley for over a decade and our specialist VI hub is located in Orpington. We have multiple partnerships with General Further Education colleges (GFE's) which enables Dorton College to offer a vast range of courses in both mainstream and specialist SEN settings, as well as our own bespoke in-house courses at the Dorton College hub.
Experienced staff team
Our dedicated and highly experienced Dorton College staff team aims to provide first-class support to our vision impaired students.
The Dorton College ethos is 'Just Enough Support', which means our staff always support students at the right level for the individual's needs – never over or under supporting.
This enables all of our students to achieve their full potential, increase their independence and reach their true aspirations so they can truly embrace their education and future and live a 'Life without Limits'.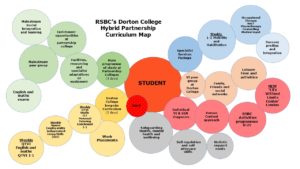 Our studies
At Dorton College, we have students studying a wide range of different subjects from Entry Level to Level 3 (A-Level equivalent).
Education Outcomes are individual to each student and their aspirations. Some students will progress to University, while others will secure employment or move to independent or semi-independent living.
Our students come to us from age 16 onwards and are welcome to continue their studies up until they are 25 and ready to graduate (subject to funding and progress).
Partners
Dorton College works closely with a range of partners, from both mainstream and specialist educational settings, to ensure that our students get the very best from their time with us.
We have 'hybrid' partnership arrangements with local General Further Education Colleges (GFE's), which further increases the range and opportunities our students have access to.
We also offer bespoke full or part-time hub only curriculum programmes, which are delivered via a curriculum that is unique to each student.Bottom of Form
Governance
At Dorton College we have a highly skilled and specialist Governing Board who help to set the strategic direction of the college. The College Governing board meets four times a year. Student Voice is represented through our student forum and presented to the Governing Board at each meeting. A parents survey and questionnaire is completed prior to each meeting to ensure that parent voice is heard.
Members of our Governing Board;
Callum Russell – RSBC Trustee and Chair of Governors
Martin Doel – RSBC Trustee and Governor
Ian Godwin – RSBC Trustee and Governor
Janet Robinson – Lead Governor for Careers and Employability
Jennifer Pharo – Governor